I attended a
Greater Dayton Ad Association
Lunch and Learn session this afternoon.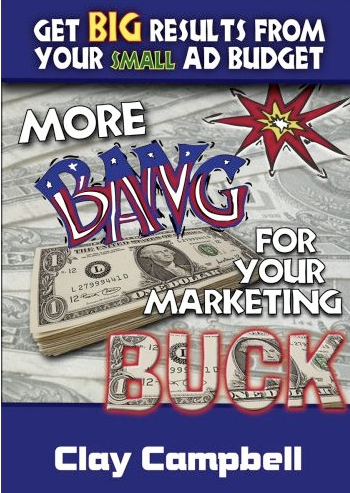 The presenter,
Clay Campbell
, presented on the topic, "
Get Big Results for Your Small Ad Dollars
." Clay is currently a partner with
Wizard of Ads
and a consultant for small business owners.
He came to speak today on how to get more bang for your marketing buck. In short, the discussion surrounded word-of-mouth marketing. He wrote a book covering over 100 ideas and strategies to help get the results from your advertising investment. Many of the techniques he covers was provided by his own trial and error.
One quote that he used, from Johnny Cash, was that "Bad news travels like wildfire, Good news travels slow." The same could be said about WOM. The consumer will exponentially hit at something they dislike compared to that of something good a company may have done.
The 5 main points of his strategy for WOM:
1. Establish a Budget
2. Architectural
3. Generosity
4. Movement
5. Good Ad Copy
To indulge (in brief):
Establish an Ad Budget
– 5% of your sales should be saved for marketing. While saving this money it should be decided upfront where to spend that budget.
Architectural
, in regards to the design of your building, can help build viral marketing.
Example:
Longaberger Basket Company
and Harley Davidson Riverboat.
Generosity
– Just how Wal-Mart has it's greeters, hiring an friendly, caring person to greet your customers can help build revenue. Clay owns the
Kentucky Opry
where he hired a sweet, kind woman who would make every person feel warm and at home and because of this, visitors would buy more merchandise. Clay would later state that he considered her pay part of the advertising budget.
Movement
– Kinetic Energy to be exact. Japanese
Hibachi
grills are the prime example. When the chef prepares the food showcasing how handy with a blade and fire, while throwing food into his hat, you know, the whole nine yards of entertainment.
Finally,
Copywriting
, is a must when creating your ads. This will be discussed in thorough in a latter post.
Remember that how your marketing efforts will be in direct correlations with your ability to increase the reach of your campaigns and the salience of the ad.
Additional cheap ways to add to your Ad budget include:
Press Releases
eNewsletters - Not just to push your advertising on them, but to entice your consumer to pull your consumer to have others subscribe (i.e. entice with a gift certificate for a referral.)
Public Speaking - Toastmasters, Ad associations, etc. are always looking for speakers
Cross Promoting with other businesses - Use clients to help promote both brands
Bartering - trade services, but don't forget to report that with the IRS.
If you are able to read his book or check into his list of
websites
it would be beneficial for your small business to try and gain more marketing bang.